A quick warning: this blog isn't about search engines or relevance at all. It's about something far more important!
Last week I attended the Open Technology for Sustainability event on the fringe of COP26 in Glasgow, as part of my role as an open source Ambassador for OpenUK and to present an award for individual achievement in open source. This was a lucky convergence of personal and business interests for me – our family have been trying to live in a more sustainable way for many years – but the event raised some questions as well. How can I as a technologist, and the open source focused company I work for, contribute to the goals of COP26 to reduce the impact of climate change – after all, literally everything we do consumes power. Our IT industry itself runs in huge, heat-emitting and carbon-burning datacentres. We help some of our clients build search engines that drive consumerism by helping users find things to buy. Are we the bad guys?
Simply giving up working in IT and growing my vegetables full-time is of course an option, but a better alternative is to help find better ways to run what is of course an increasingly digitized world (digitization itself having some significant benefits, for example reducing unnecessary travel – I haven't commuted for 20 years and most of OSC's client work is now online). Over the last year OpenUK, formed as an advocate body for open source software, open source hardware and open data in the UK (where its own reports show open source contributed over £43 billion to GDP) has focused on sustainability as a key objective. The question is how Open ways of working can drive the changes we all need to happen?
A day of Open Ambition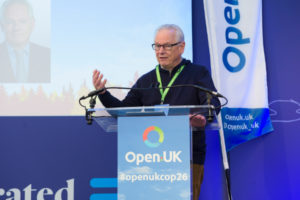 Lord Maude (previously Francis Maude MP), keynoting the day, introduced a fantastic example of how the UK's Government Digital Service he championed created a single website to replace the 2000 individual government sites that existed – most of them run at a huge cost by large outsourcing companies. GDS works 'in the open', publishes its code as open source and has driven the creation of similar organisations in many other countries, preventing them 're-inventing the wheel' by promoting re-use of code and use of open standards. The cost reduction (in terms of hard cash and carbon cost) must be significant. Another example discussed at the event was how OFGEM (the UK's energy regulator) is encouraging the use of open data – absolutely essential to balance local power generation and use (for example from the solar panels on my own roof!) and reduce overall demand.
A major initiative launched at the event was OpenUK's blueprint for a carbon-negative datacentre. Based on a combination of re-use and repurposing (unused buildings and second-hand servers from large cloud providers), edge networks and localisation (to make capacity available closer to those who need it) and of course, open source, this blueprint aims to reduce emissions by 80% and the carbon cost of constructing data centres by 90%. OpenUK have contributed the blueprint, now named Patchwork Kilt, to the Eclipse Foundation for future development. As UK tech website The Register writes "this represents something a good deal more tangible than some of the hot air expelled elsewhere at COP26".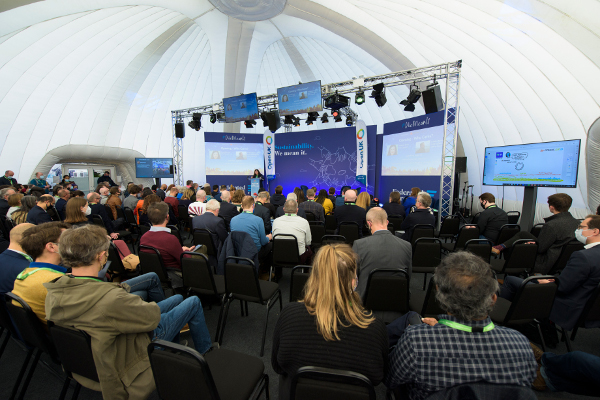 Speakers came from a huge range of backgrounds – from young people using open source to measure environmental indicators, to companies like RedHat with a long history in open source, to the United Nations, to economists reminding us that for sustainability to work the numbers need to add up. This wasn't an event focused on code, or particular open source projects or licenses, but on big picture goals: how to work together, how to advocate for open source as an enabling methodology, to encourage sharing of solutions.
The day felt like a solid starting point, and I'm very much looking forward to the next steps. We were a fringe event at COP26 but it's clear the Open sector can play its part – and there's no lack of ambition for how large this part might be. At OSC we're absolutely committed to open source as we want our clients to own their search and we're working on developing an annual target for our open source contributions – you might even see this published on our website with a ticker to show how we're doing against it.
Presenting an OpenUK Award
The day ended with a glittering awards dinner – something I really didn't expect to be attending in these strange times! Following a pipe band into the dinner venue we dined on a vegan feast, celebrated Open in all its forms and congratulated the winners of this year's OpenUK Awards. OSC was pleased to be able to sponsor the Individual award this year and I was able to present this to the deserving winner Kevin Mayfield, maintainer of Open Health Hub, "the only completely independent, open internet-facing, and free place to discuss health technology in the NHS/UK.". It was particularly pleasing to see Kevin win – I've worked on several healthcare initiatives over the years including supporting the team using Solr for the Welsh Clinical Portal so I know a little about the benefits of open technology for this sector.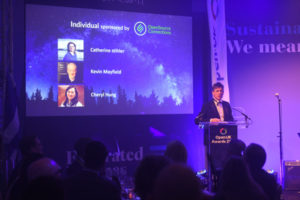 We finished with a Celtic rock band and then a performance from some old friends of mine at Circus Alba – including some clever technology allowing sponsors names to be literally written in light!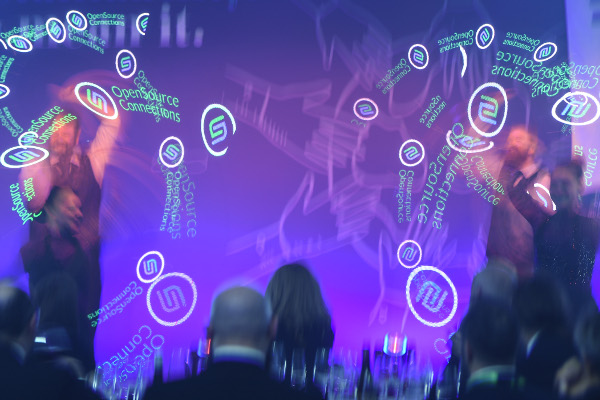 With my huge thanks to everyone who made this event possible, especially OpenUK's CEO Amanda Brock – I look forward to OSC's further support of and collaboration with OpenUK and in particular how we can contribute to the sustainability goals.