We wrote the book on search.
Good search understands a user's intent, not just what they type. While at OSC, Doug Turnbull wrote the book on search, Relevant Search, to help teams build smarter Elasticsearch and Solr applications. Our co-founder Eric Pugh helped write the very first book on Solr and our team contribute to the annual Search Insights reports from the Search Network.
"One of the best and most engaging technical books I've ever read."

Trey Grainger
Lucidworks
"Will help you solve real-world search relevance problems for Lucene-based search engines."

Dimitrios Kouizes-Loukas
Bloomberg
Pioneers in machine learning.
We built Elasticsearch Learning to Rank, which powers search at Yelp, Wikipedia, Snag and others.
Since deploying learning to rank, we've seen a net 32% increase in conversion metrics across our historically lowest performing use-cases.

Jason Kowalewski,
Sr Director of Engineering at Snag
We built the tools.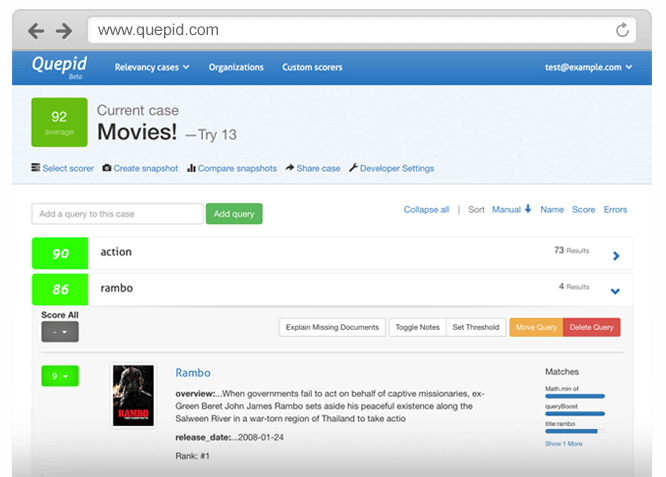 We also built Quepid, a search testing platform that takes the guesswork out of search relevancy.
"Do not attempt a search project without it."

John Bickerstaff
We support the community.
We run Haystack, the Search Relevance conference. We sponsor MICES, the E-Commerce Search conference. We host and speak at Meetups on search & relevance.
We host a Slack Channel where practitioners support each other and share solutions and we are part of The Search Network, a group of independent search professionals that publishes regular reports on search topics.
Own Your Search
Through our Proven Process, we assess your systems and performance, recommend improvements based on your search and business goals, and consult with and train your team. When search is critical to your organization, it's our mission to make sure you own your search.