When its a mall, a kennel, a wireless hotspot, or a restaurant.
Here at the 50th AAAE Northeast Chapter meeting the session I was most looking forward to was Non-Airline Revenue since our product, AeroWeb, has a lot to offer in that area. Airports are faced with declining flights, and therefore declining revenue from airlines and are looking for other ways to make up the lack.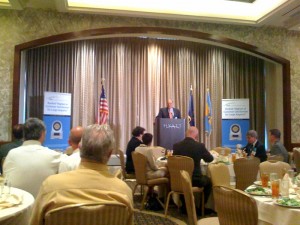 While this session briefly talked about 18 areas that could contribute more non airline revenue, from air cargo, to airline services, the focus was on maximizing revenue per passenger through better services. The biggest source for gaining significantly more revenue quickly was extending advertising opportunities, and increasing revenue per passenger through food and retail. Many of the airports on the Northeast have large atriums, and those high traffic areas are great places for additional advertising via banners. Additionally, by featuring premium restaurants with a local tie to the airport, you encourage folks to come in. I know I go to Legal Seafood in Logan versus the generic sports bar located in the same terminal. Also touched on were how airports are hosting kennels, and even hotels on the premises.
What wasnt touched on was the opportunity to increase revenue by making an airports web site work harder. Airports who have free wireless available typically send the user to the standard public airport homepage. But what about instead sending those folks to a specific internal page that provides what they are looking for (since you know they are in the terminal!):
Where are the restaurants and retail?
Advertising/special deals for venues in the airport?
How long will it take me to get to my gate.. More importantly, how long can I shop before I go to my gate?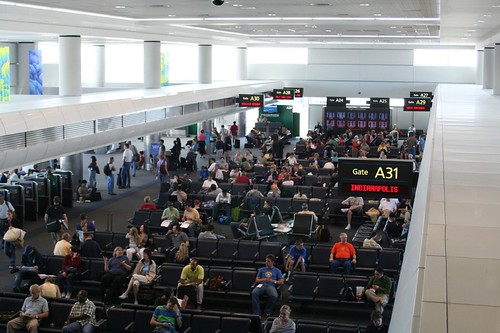 Weve been discussing what it would take to allow a passenger to subscribe to text messages providing detailed information about their flight, from delays and gate changes, to details on who can board when. Just look up a phone number on a FIDS display, punch it into your cell and now you can walk around the airport, secure that you are being notified regardless of where you are. This might even help those "Gate huggers" who will immediately bypass all shopping and retail services in a mad rush to get to their gate, just to wait around for an hour.
Airport Managers should also be looking at what services you are paying for related to your website, and see if you can turn those around. For one client, the airport was paying a monthly fee for a ticket booking engine that didnt even work well. We integrated Kayak into our AeroWeb airport website product, and now that airport is making affiliate revenue for driving traffic to Kayak! The same situation often pops up for weather data, you can set yourself up as an affiliate to Weather.com, and even potentially earn revenue on people who click through to Weather.com.
While I love the idea of sleep pods and kennels in airports, I think the real "service" that takes advantage of your being away from home is routine services for your car. Getting maintenance done on your car is always a hassle. However, if you can just drop your car off for an oil change or your 90,000 mile overhaul, and pick it up when you return, then it makes sense to book those activities (maybe via a web interface?) while you are traveling.
Here in Charlottesville you can take your car to Airport Road Auto Center, and theyll run you the four blocks to the airport, and then on the day you return drop your car off in the short term parking lot, all tuned up and ready to go!