In August's Summer of Relevance we took 19 attendees through intense, small-class search relevance training workshops – including "Think Like a Relevance Engineer" and "Hello LTR – Learning to Rank Training" to turn them into elite relevance engineers! Now the week of November 11th, we'll be doing another week-long training extravaganza again at Relevance Cornucopia !
In Summer of Relevance, we spent a week helping attendees cut through the 'magic' of smarter search, to teach best practices in relevance measurement & tuning. In Learning to Rank training, we taught them how to best build and deploy machine learning optimized search ranking using 100% open source search components.
We had fun, but there's a missing piece to how we think through machine-learning search relevance. Do you see what's missing in the diagram below?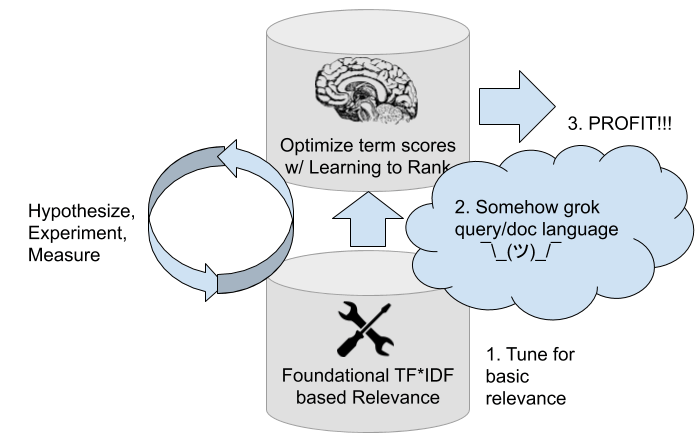 See the thing is Learning to Rank can take a set of features, and try to build an optimal ranking function. But what it CAN'T do is get underneath the natural language meaning of the user's query, really grok the query's intent or meaning in a document. Learning to Rank can't get better than the features you feed it (just a bunch of numbers). And if those features are just about strict, exact term matching – you won't get the most you could out of it.
You might say Learning to Rank is a bit like eating the Thanksgiving turkey without any of the fixins!
The missing ingredient in this is adding NLP to your search system. And that's why we've added Natural Language Search to our training lineup at Relevance Cornucopia . Learning to Rank is built to optimize a ranking function given arbitrary features. Natural Language Search creates creates features that make it possible for LTR to optimize the ranking based on deeper understanding of the user's language. It's like Yams and Marshmallows, you don't want one without the other 🙂
That all sounds fun and exciting, but you really shouldn't be getting into either until you've had the foundational "Think Like a Relevance Engineer" class. In this class, given before LTR and NLP classes, you'll learn about relevance measurement, tuning, best practices, and making search accountable to the business. In particular, in the diagram above the "Hypothesize, experiment, and measure" cycle of doing relevance work is absolutely critical, and is either an organization's foundation for success, or why an organization fails.
We offer this course for both Solr and Elasticsearch.
In addition, we'll be your hosts in beautiful Charlottesville, and look forward to entertaining you in our lovely downtown during the evening. There's a lot of fun things to do in Charlottesville area, including enjoying beautiful fall foliage in Shenandoah National Park, exploring wineries, Monticello, the University of Virginia and more!
If you're interested, check out the details below. Or Get in touch with any questions.
For Beginning Relevance Engineers
Take the "Think Like a Relevance Engineer" course Tuesday & Wednesday of Relevance Cornucopia. Don't worry there's still an option to add Learning to Rank or NLP the next two days
View Solr DetailsView Elasticsearch Details
For the Advanced Relevance Engineer
Either after you've taken "Think Like a Relevance Engineer" or for the more advanced practitioner we have our Natural Language Search and Hello LTR courses.
Hello LTR DetailsNatural Language Search Details
Want to do both? Contact us for a discount code
The two classes form a great progression for someone really wanting to go deep in improving their search relevance skills. Please contact us if you'd like $100 off each class.
Quotes from post attendees
"'Think Like a Relevance Engineer' has helped me think differently about how I solve Solr & Elasticsearch relevance problems"
"'Hello LTR' training gave me strong conceptual foundation of Learning to Rank and its moving parts, practical tips and learnings on how to implement it in production"
What a positive experience! We have so many new ideas to implement after attending 'Think Like a Relevance Engineer' training.