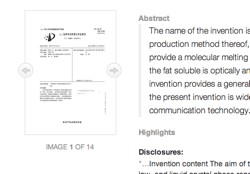 Featured Articles
Using Quepid To Improve Relevancy Of Advance Auto Parts Intranet Search Doug Turnbull | July 24, 2014

Recently, Advance Auto Parts contacted OSC to improve the search relevancy of their intranet application, Starting Line. Starting Line serves as the knowledge base for every store employee, so having relevant internal search results helps keeps employees connected with resources and company news. Through our two day Quepid relevancy assessment, we helped bring together content […]

RDS Is Expensive — A Cautionary AWS Tale Eric Pugh | June 30th, 2014

I wanted to share with the world a cautionary story related to my by @softwaredoug that reminded me that while Amazon AWS is amazing, it's also best used in situations where your needs are extremely variable. It's the natural gas powerplant versus coal powerplant of hosting providers. I looked at our bill out of curiosity. […]

Indexing Polygons In Lucene With Accuracy David Smiley | April 11, 2014

Apache Lucene is a Java toolkit that provides a rich set of search capabilities like keyword search, query suggesters, relevancy, and faceting. It also has a spatial module for searching and sorting with geometric data using either a flat-plane model or a spherical model. For the most part, the capabilities therein are leveraged to varying degrees by Apache Solr and ElasticSearch—the two leading search servers based on Lucene.
Upcoming Events
September 10 | New York City, New York New York Solr/Lucene Meetup

Doug Turnbull

Doug will be talking about Test Driven Relevancy-How to Work w/Content Experts to Optimize Search Relevancy.

September 18 | Washington, DC DC Solr/Lucene Meetup

Doug Turnbull

Doug will be talking about Hacking Lucene for Custom Search Results.

October 22-23 | Raleigh, NC All Things Open

Doug Turnbull

Doug will be talking about How I learned to stop worrying and love the SQL -- converting Quepid from Redis to MySQL
Quepid takes the guesswork out of search relevancy. Start benefiting from test-driven relevancy today.