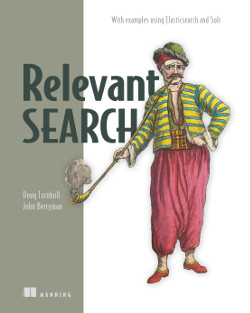 Recent Articles
Announcing Quepid For Elasticsearch Doug turnbull | 25 Sep 2015

Good news! We're proud to announce our test-driven search toolbench Quepid now supports Elasticsearch. Quepid helps by bringing test-driven principles to tuning search results -- what we call Test-Driven Relevancy. It helps define what good search results by incorporating your own business expertise from colleagues that know users the best

Using DSE to run Solr Spark Jobs Eric pugh | 24 Sep 2015

Notes from pulling and pushing data in Solr using Spark and DataStax Enterprise

Elyzer: Step-by-Step Elasticsearch Analyzer Debugging Doug turnbull | 22 Sep 2015

I love stringing together custom analyzers to solve my search problems. Analyzers control how search and document text are transformed, step-by-step into individual terms for matching. This in turn gives you tremendous low-level control of your relevance. Yet one thing has always bugged me with Elasticsearch. You can't inspect the step-by-step behavior of an analyzer very easily. You have the _analyze API, which helps a great deal see the final output of the lengthy analysis process. But you can't pry into each step to see what's happening.
LuceneRevolution October 15-16 | Austin, TX

*The* conference focused on Solr, we've made the pilgrimage since 2010

beCamp 2015 October 23-24 | Charlottesville, Virginia

beCamp, that most Charlottesville of conferences brings together tech-curious folks from all walks of life.

KMWorld 2015 November 2 - 5 | Washington, DC

We will be workshopping *Enabling a Sophisticated Search User Experience* at KMWorld
Quepid takes the guesswork out of search relevancy. Start benefiting from test-driven relevancy today.