E-commerce Search Experts
We're recognised experts in search for e-commerce, trusted by some of the world's largest and most innovative brands. Led by our Director of E-commerce Search, René Kriegler, our specialized e-commerce search team can quickly identify pain points, propose and swiftly implement solutions to support your business using open source software.
How we work
Using our Proven Process, we'll run an initial Discovery engagement, bringing your search team together to assess your Search Maturity, identify key areas for improvement and plan for the future. Subsequent 120-day Accelerator Implementation cycles will include some or all of the activities below. Within a few months your e-commerce search will be more accurate, driving conversions and promoting customer retention. Contact us today and we can help you own your search.
"Working with the team and their vast experience in search has helped level-up Rubix's maturity level in some key areas and deliver better search to our customer with measurable improvements."

Shaun Brazendale, product owner for search at Rubix Group, Europe's largest supplier of industrial maintenance, repair and overhaul (MRO) products and services – read the case study to find out how we helped raise conversions by up to 30% and halve the search exit rate.
E-commerce Search Team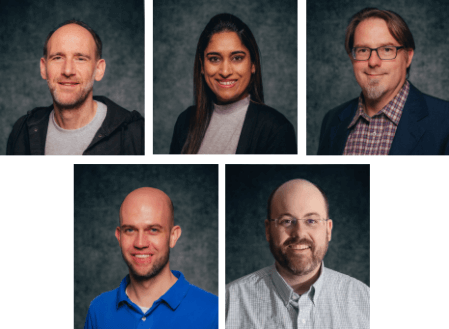 Our model for understanding e-commerce search
At OpenSource Connections, we are convinced that improving e-commerce search requires a clear understanding of how consumers search at different stages of their buying decision process and what criteria finally lead to a purchase decision. Our model of understanding e-commerce search is inspired by Michael R. Solomon's notion of Buying, Having, and Being in his work on consumer behaviour :
Having – What type of item – corresponds to traditional search relevance,
Buying – The effort of making the purchase – corresponds to the offer (price, delivery times, item reviews) that search can exploit as ranking factors
Being – The (social) implications on the self – corresponds to mostly implicit ranking signals in search that represent individual or group preferences and values.
E-commerce search development work will usually iterate through all three aspects but it is important to assure that the Having aspect – finding the right type of item and being able to measure this – works well before approaching Buying and Being because mixing in additional ranking factors could potentially harm search relevance. For the same reason, we would usually add more seller-oriented objectives for e-commerce search, such as optimising for profit margin or stock clearance, only once search relevance is in a good shape.
Learn more about our model for understanding e-commerce search in the talk given by René Kriegler at MICES US 2022: video & slides.
---
What we'll do – the basics
Set a baseline
Create a small set of search queries to measure and ask subject matter experts to rate the results. This forms a set of explicit judgements that allow us to start measuring the quality of search results as we tune the engine. We'll help you choose the right queries and show you how to set up a regular rating cycle using open source tools such as Quepid.
Choose KPIs
We'll help make sure the team works towards relevant KPIs, such as conversion rate. There are many choices of KPIs as Max Irwin writes in this series of blogs. We can help you build dashboards to identify how your site search is performing overall and to identify areas for improvement.
Audit the core algorithm
Find out if your search engine (Solr, Elasticsearch, OpenSearch – we know them all and many others besides!) has been set up correctly to produce relevant results. We'll examine the fields being searched, how boosts are applied and what search engine features are being used, and help tune the engine for the best performance. During this process we'll start to teach you how your search engine works and all that it can do. Our baseline measurements created above will show us what works to improve relevance.
Set up Search Management or 'Searchandizing'
Using open source tools such as Querqy, a process for creating business rules to fix problematic queries, bridging the gap between the language your customers use and your product catalogue and allowing you to boost or bury certain results. Give the power to your territory or category managers to directly fix search issues – in minutes – and significantly reduce the workload of your core search team.
Start experimenting with search
With regular measurement and testing now in place, learn how to quickly try new search settings in an offline environment and start a regular and rapid cycle of search improvement measured against KPIs that drive your business.
Build your search team
We know how to structure a search team for success – let us help you create and fill the roles you'll need, develop effective processes and foster collaboration. As you build an effective team, let us fill the gaps.
See how it can be done
The Meet Pete series of blogs and videos shows how these techniques can be used to improve search on our example web shop, Chorus Electronics:
Ask these key questions:

Are your search results always relevant to the user's query?

How many of your searches produce zero results?

How quickly can you test new search configurations?
---
What we'll do – advanced
More key questions:

Are the search results ranked in the right order for your users and your business?

How are your users interacting with search?

Could your search tuning be more automatic?
Find ranking factors
Learn what other factors should influence the order of search results – price, distance, freshness – and what can drive sales and user retention. Measure the impact of multiple factors against KPIs.
Derive user search behaviour from click data, allowing for quicker validation of tuning experiments and eventually more automatic tuning cycles.
Query analysis
Understand what different types of queries are being used along the buying decision process (e.g. broad queries for product types and brands vs. model or part numbers) and develop different strategies for handling each variant.
Personalisation
Show personalised results based on purchase history, user location, interests etc.
Multi-objective optimisation
There are many competing interests in e-commerce search: for example profit margin, stock clearance on the seller side, versus the user's desire for the right item at the right price. We'll help develop algorithms to balance these interests effectively.
Learning to rank (LTR)
Using cutting-edge machine learning techniques, create and deploy models to automatically re-rank search results to maximise performance. We created the Elasticsearch LTR plugin and offer LTR training.
Next generation search
Push the boundaries with image-based search, voice search and more!
We've worked with the best
Click below to find out how we've worked with some of the world's largest e-commerce companies – and also with smaller players disrupting established markets. Our clients trust us to drive conversions, reduce zero-result queries and train them to deliver excellent and relevant search.


Great search drives conversion – get in touch today!
We're always happy to chat – contact our e-commerce search experts for an initial discussion and let us help take your search to the next level.